Congratulations on weeding your collection and removing unnecessary bookcases. Your Learning Commons looks very different now doesn't it! For the last two weeks, I have been weeding and removing bookcases in an elementary school.  I know this is a lot of work; however, while you are working, your campus is noticing.

Once the clutter is gone look at your walls and ceiling.  What color are they?  Raise your hand if your walls are white, tan or grey?  My walls and ceiling are tan so adding color will brighten it up.

Here is a list of considerations:

1. Get Feedback and Buy in.  Ask campus administration, students, staff and parents what colors they would use.  Obtaining everyone's input builds excitement.

2. Think carefully about color selection:
•    The color selected is for your students.
•    Consider dedicating a wall to your school logo or mascot.
•    If you are in an elementary school consider primary colors to liven areas or make them "pop".
•    Consider working school colors into your color scheme.
•    Do not use the same color on every wall.
•    Consider using accent colors for sections of your wall(s).
•     If all of your walls are flat, use dark and light color to create an illusion

Revisit my last blog titled Learning Commons: Removing Your Bookcases and look at the pictures I posted.  This time look at the color and shading for ideas.

I hope you enjoyed this blog post and good luck on your painting adventure!

Keep in touch and until we talk again ... have fun with your Learning Commons puzzle!
JO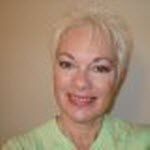 JoAnn was born in Oakland California, and after two boys finally her parents had their one daughter.  After JoAnn's father retired from the Army they moved to Loveland, Colorado where she graduated from high school.  Later

JoAnn obtained her M.Ed then MLIS both in Colorado.  For twelve years she taught at Poudre School District in northern Colorado before working at Cherry Creek School District.
Because Denver hosted the ISTE conference, JoAnn's life took a dramatic change.  While looking through the ISTE website, she  discovered a job opening for Director of Innovative Resource Media Systems. Being the wild Irish woman that she is,  JoAnn applied for the job and six months later moved to Houston, Texas.  Because her loving family supports her, JoAnn can honestly tell you this she has a wonderful job and she is a lucky woman. JoAnn's three children live in three states, so frequent flyer miles are her best friend.  She has two grandchildren and two grand-dogs who she spoils every time she visits.